New Business Inquiries (877) 305-7933
Flexible solutions to fit your business
With our consumer-directed health care (CDHC) options — deductible plans paired with one of our health payment accounts — you get what you're looking for. It's a solution with advantages for your employees and your business.
The fastest growing form of health care coverage in the U.S.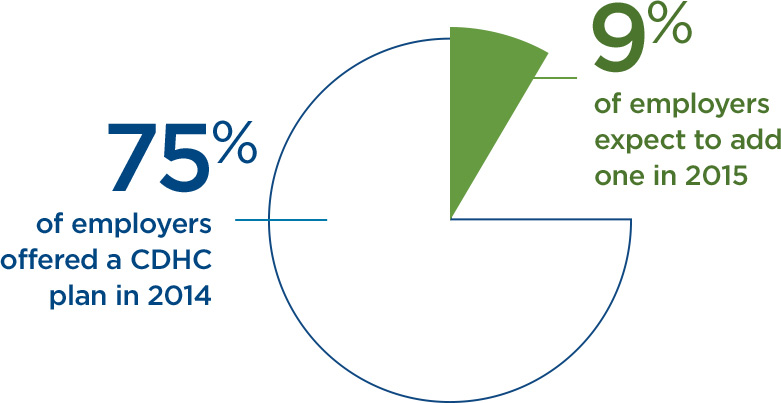 — Towers Watson/National Business Group on Health, April 2014.
Customized solutions for more affordable care
No matter which deductible plan and health payment account you choose to pair together, you and your employees will get a wealth of features and benefits that'll help you get the most out of your health care strategy.
Choose from three types of health payment accounts administered through Kaiser Permanente:
Health Reimbursement Arrangement (HRA)
---
Employees have the option of using employer-contributed funds to pay for qualified medical expenses on a tax-free basis.1 Several HRA types are available, ranging from comprehensive to more limited coverage.
Health Savings Account (HSA)
---
Employees own their HSA, which can be used to pay for qualified medical expenses. 2 The money employees contribute to this account through payroll withholdings isn't considered part of their wages, so they won't be taxed on it.
Flexible Savings Account (FSA)
---
Employees make pretax contributions to a savings account they can use to pay for a wide range of qualified medical expenses — including doctor visits, prescription drugs, lab tests — or dependent care expenses such as child care. 3
Easy administration
With our enhanced administrative capabilities, you can spend less time managing your employees' health care expenses and more time moving your business forward. And you and your employees can get the administrative support you need from our dedicated Health Payment Services team, from setup to day-to-day management.
You get:
flexible account options
integrated enrollment and eligibility management
a convenient portal for administration
automated reports and notifications on balances, reimbursements, and more
live phone and email support
Your employees get:
a convenient method of payment or reimbursement, including preloaded debit cards that automatically deduct qualified expenses from their account (available for some accounts)
the ability to access and manage their personal health information and health payment account via kp.org
live phone and email support
a mobile app to track expenses, file claims, and manage their account
the ability to submit HRA and FSA claims using cameras4

For more information
Notes:
The tax references in this website are provided for informational purposes only. Consult with your financial or tax advisor or attorney for advice about federal and state income tax laws.
1

Refer to IRS Publication 502 for a list of qualified medical and dental expenses. Refer to IRS Publication 503 for a list of qualified child and dependent care expenses.

2

See note 1.

3

See note 1.

4

Applies only to HRA and FSA.
Some plan options, products, and riders not available in all Kaiser Permanente areas.
Copyright information
Kaiser Permanente health plans around the country: Kaiser Foundation Health Plan, Inc., in Northern and Southern California and Hawaii • Kaiser Foundation Health Plan of Colorado • Kaiser Foundation Health Plan of Georgia, Inc., Nine Piedmont Center, 3495 Piedmont Road NE, Atlanta, GA 30305 • Kaiser Foundation Health Plan of the Mid-Atlantic States, Inc., in Maryland, Virginia, and Washington, D.C., 2101 E. Jefferson St., Rockville, MD 20852 • Kaiser Foundation Health Plan of the Northwest, 500 NE Multnomah St., Suite 100, Portland, OR 97232 • Kaiser Foundation Health Plan of Washington or Kaiser Foundation Health Plan of Washington Options, Inc., 1300 SW 27th St., Renton, WA 98057
Saved item successfully popup
Congratulations! You have successfully saved this item.
To access your Saved items any time, open the "Saved Items" folder in the top right corner of the page.
Cookies not enabled popup
It seems that you do not have cookies enabled. Please enable cookies to make use of all of our site's functionality.
No saved items popup
You haven't collected any items yet.
Save Content

Click the "Save" icon next to the content you want to revisit later.

Access Your Saved Items

Click on the "Saved Items" link at the top of the page or use the URL we create for you.

Be sure to copy and paste the URL we create for you before you leave the site.
Saved items popup
Your Link
After leave the site, your saved items will be saved for you at this URL:
https://business.kaiserpermanente.org/saved-items?user=
Share your list
Show Disclaimer +
Saved items will not be saved on the site once your current session expires or after 7 days of inactivity. We will not save any of your browsing history. The URL above is unique to your saved items. You can share it with others, but it will not be shown anywhere on this site.
You have 0 items saved, To save an item, click on the "Save" icon on the page.